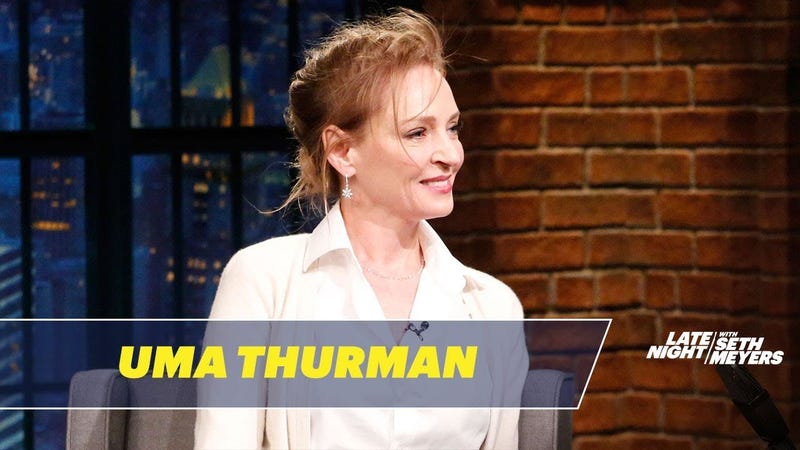 Currently promoting her Broadway star turn in The Parisian Woman, Uma Thurman dropped in Monday on Late Night with Seth Meyers, and invested the majority of the interview joking about how Broadway stars have the hardest task in program company. Up until the very end.
Eventually, Meyers raises Thurman's current interview with the New York Times, where she declared that she was assaulted by Harvey Weinstein, likewise detailing an event on the set of Kill Bill where she was seriously hurt in an auto accident after director Quentin Tarantino disregarded her issues. Meyers talk about how brave individuals stepping forward have actually been, and thanks Thurman particularly.
"You've gotta be a citizen, and you can't leave people alone holding the bag of truth by themselves," Thurman replies, followed by a prolonged applause break.
"There's no one I wish to get due process more than him," she includes, which might really occur.
Over on The Late Show with Stephen Colbert, Jennifer Lawrence got a bit more graphic, as is her design.
After consuming a variety of rum shots, Lawrence discusses her strategies to take a year off and speak with kids about the federal government. She then starts her shoes and enters into how Harvey Weinstein dragged her name into his dirt.
"He is just that horrible ass boil that does not go away—you pop the ass boil…and it just does not go away," states Lawrence, including that she needed to create a declaration in the middle of the night after Weinstein insinuated she was an advocate. She states she cannot think "his awfulness is still happening."
The remainder of the section has plenty of bits about Amy Schumer's wedding event, and a confession that Lawrence has a major crush on Larry David, which I think makes it even clearer what her type is.
Related youtube video: (not from post)