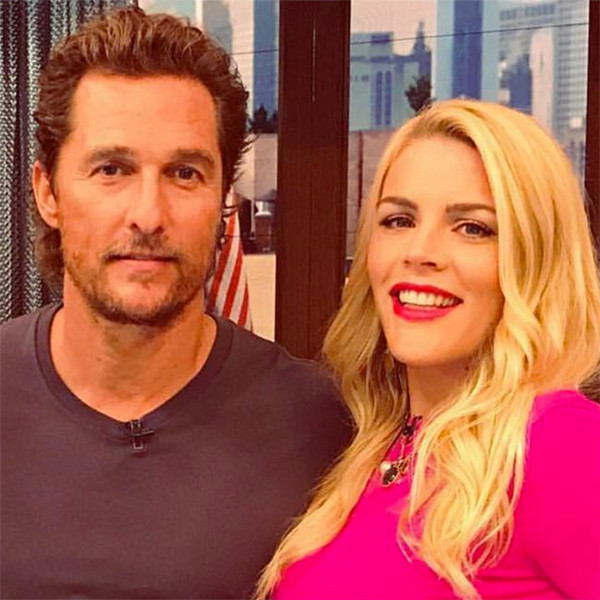 Everything is alright, alright, alright between Busy Philipps and Matthew McConaughey.
Philipps filled in for Kelly Ripa on Live With Kelly and Ryan Monday, where the actor was on the talk show to promote his new movie, The Dark Tower, and the actors bonded immediately over their similar parenting philosophies. "I just think it's so cool for kids when you have parents who work in this industry. They get to travel all over the world," Philipps said. "I find my children make incredible developmental leaps…" McConaughey agreed, saying, "Culture has been my best educator—no doubt about it…And for a great example of what a man or woman is, check out their passport. That says a lot about somebody. My kids' passports are already getting full."
Later on, Philipps asked McConaughey how his kids feel about him playing a villain in The Dark Tower. "They're not going to see this one yet. They know I'm the man in black. The oldest one thinks it's kind of cool," the actor shared. "But they're like, 'Why didn't you play the good guy?'"
After the taping ended, Phillips posed for a selfie with McConaughey and Ryan Seacrest—and when she posted it on Instagram, the actress treated her followers to something extra special.
"Wait. I didn't get to tell this story cause when you're hosting, you know, IT'S NOT ALL ABOUT YOU," she began. Years ago, Philipps and her husband Marc Silverstein attended a pre-Oscars party for Brokeback Mountain with Heath Ledger and Michelle Williams, who were nominated for their performances in the film. "Matthew McConaughey came up to congratulate them and we were introduced. He talked with us for about 10 mins and when he left he said, 'Heath, Michelle, congratulations and best of luck to you this weekend. Marc, it was nice to meet you. WHIMSY, it was a pleasure!' We obviously didn't correct him cause who cares?!" she wrote. "He's Matthew McConaughey! He can call me whatever he wants! But we all just about died."
To this day, Williams "sometimes calls me Whimsy," Philipps said. "It always makes us laugh." Sophia Bush liked and commented on Philipps' party story, writing, "hahahaha this is amazing."
And just in case it weren't obvious, the Cougar Town star added, McConaughey is still "so hot."
Related youtube video: (not from post)