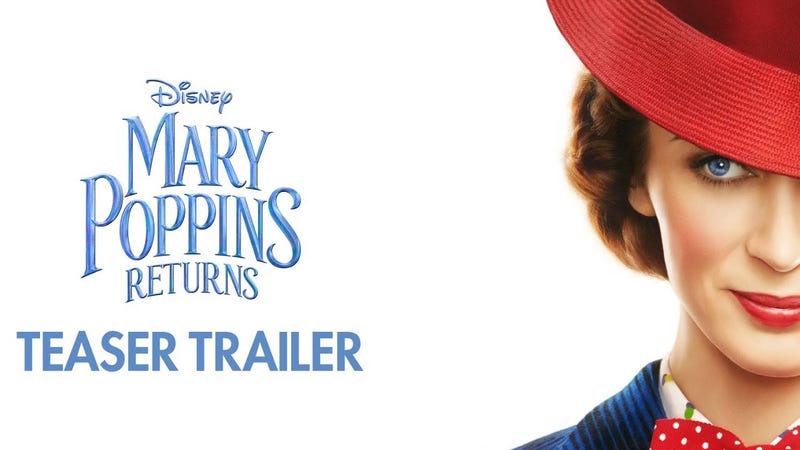 The above teaser trailer for Mary Poppins Returns debuted throughout an Oscars business break tonight, and it is simply as frustratingly puzzling as the remainder of the information that have actually dripped out about this movie so far.
The trailer definitely looks great. It is properly grim, as befitting its setting in Depression-era London. It includes an impeccably-costumed Emily Blunt as Mary Poppins, Lin-Manuel Miranda as a lamplighter called Jack, Emily Mortimer and Ben Whishaw as Jane and Michael Banks, and some kids, though there was no indication of the cast member I'm most delighted for (Angela Lansbury, duh) or Dick Van Dyke, Meryl Streep, Julie Walters or Colin Firth, who are all in the cast.
Still, I have my bookings. Julie Andrews, the only True Mary Poppins in my heart, will not appear in this reboot, unless Disney is preparing a great surprise. Far, we do not understand much about the plot, other than that Mary Poppins apparently makes her return to the Banks home "following a personal loss." What is the individual loss? Is Mr. Banks dead? Is Bert dead?? Is the pigeon woman dead??! IS THIS DOG DEAD??!!! I have to understand exactly what occurred to the canine!
I am likewise a little worried about Miranda's addition in the movie– clearly, he is a fantastic skill, however he likewise has the endless earnest interest of a high school theater kid, and I am not positive about how that will equate onscreen. We'll discover out if Disney damaged the youths of legions of OG Poppins fans quickly enough– Mary Poppins Returns will premiere next Christmas, which is coming much quicker than my overdue taxes would like to think.
Related youtube video: (not from post)