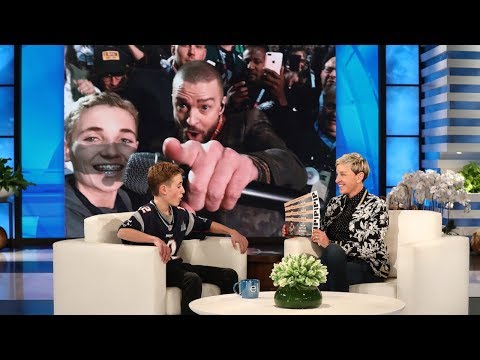 The sensation is still alive and well for Ryan McKenna!
The 13- year-old ended up being a viral meme after having a hard time to take a selfie with Justin Timberlake throughout the vocalist's halftime efficiency on Sunday.
Now called the Super Bowl selfie kid, the Patriots fan got to relive that feeling all over once again when he was welcomed on Ellen and got a surprise call from the Man of the Woods vocalist himself!
Related: Justin's Subpar Super Bowl Performance Explained!
In the interview, airing Friday, McKenna stated he's seen "all the memes" of himself taking a look at his phone, describing that his sluggish iPhone 6 was the factor he was sidetracked while Timberlake sang Can't Stop The Feeling beside him.
Luckily, the teenager will have a SECOND possibility to take a selfie with the super star– due to the fact that JT amazed him with 4 VIP tickets to his Boston show in April!
Ch-ch-check out the selfie kid's interview (above).
Tags: cannot stop the sensation, cant stop the sensation, daytime television, ellen degeneres, ink, justin timberlake, brand-new england patriots, ryan mckenna, very bowl, television news
Related youtube video: (not from post)