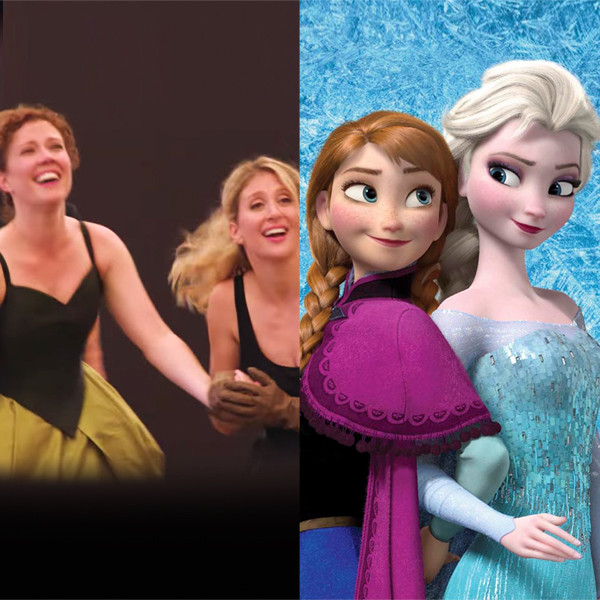 As Anna sings, love is an open door and now she's headed for the stage door.
With less than a year until the Broadway debut of Frozen, fans of the instant Disney hit are finally getting their first look at the cartoon headed for the stage.
Thanks to a newly released behind-the-scenes featurette, eager audience members can see the performers getting into the swing of life in Arendelle during rehearsals for the upcoming show. According to members of the creative and production teams for the musical, the musical will go deeper into the characters with the help of new songs penned by the film's original songwriters, Kristen Anderson-Lopez and Robert Lopez.
In fact, they've tripled the number of songs originally in the film, so there will be plenty of new material to belt out in the shower.
While you can't hear the actors and actresses actually singing during the clip, you can see them getting into formation with trickles of choreography by Rob Ashford and hints of costuming. Yes, it is still a work in progress, but things are coming along!
[embedded content]
The cast, which features Caissie Levy as Elsa, Patti Murin as Anna, Jelani Alladin as Kristoff, Greg Hildreth as Olaf, John Riddle as Hans and Robert Creighton as the Duke of Weselton, will pack up and head to the St. James Theater in New York City next spring.
However, before stepping into the concrete jungle, the stars are taking the show to Denver for an out-of-town "tryout" from August 17 to October 1.
"You guys. Get ready for this ice storm. Cause it's beyond," Levy teased fans recently with a photo of the icy set.
It's only a matter of months before fans can head into the theater and let it go.
Break a leg!
Related youtube video: (not from post)