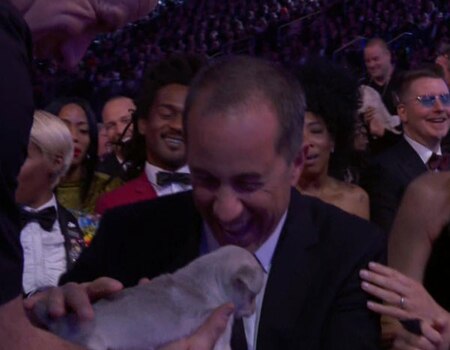 James Corden had an incredibly charming surprise for 2018 Grammy Awards candidates who didn't get an award on Sunday.
After Dave Chappelle won the award for Best Comedy Album at the program, the host of the program took the phase to make a statement.
"Congratulations Dave Chappelle, now I should say to all the nominees this evening who are not going home with a Grammy…I don't want anybody to be upset tonight," Corden informed the audience. "So the good news is, nobody goes home empty handed, because all night we'll be handing out consolation puppies. OK so if you didn't get a Grammy, you get a puppy!"
Watch the charming video above!
After the Grammys telecast on CBS, view the E! After Party at 11 p.m. ET/8 p.m. PT. For total Grammy Awards protection, watch E! News Monday, Jan. 29, at 7 and 11 p.m.
Related youtube video: (not from post)