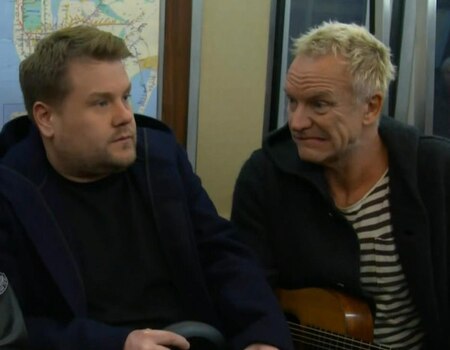 The streets of New York City might never ever be the very same.
During tonight's 2018 Grammy Awards, host James Corden chose to bring among his most popular sectors from The Late Late Show to music's greatest night. Possibly you've become aware of Carpool Karaoke?
Instead of taking a trip with a well-known visitor on a Los Angeles highway or loaded street, James chose to strike the train and he didn't come alone.
Sting and Shaggy occurred for the trip in hopes of unexpected a couple of travelers. Things didn't go as prepared.
As quickly as the trio began carrying out "Every Breath You Take" by The Police, one building employee was left less than amazed.
"We're doing like a carpool karaoke but like a New York special edition," James shared. The complete stranger responded, "I don't give a f–k. Shut up!"
Instead of getting dissuaded, James and his pals kept the program on the roadway by carrying out "It Wasn't Me" by Shaggy and "Don't Make Me Wait" by both Shaggy and Sting's brand-new joint album 44/876
Ultimately, individuals were not impressed with the stars who were misinterpreted as YouTube stars and homeless guys.
"How about you shut up and sit down?" the very same building employee shared. "How about this, you get off the train the next stop or I will kick you out?"
So exactly what takes place next? Let's simply state James has some blood on his face. Perhaps the 405 highway isn't really so bad after all.
After the Grammys telecast on CBS, see the E! After Party at 11 p.m. ET/8 p.m. PT. For total Grammy Awards protection, watch E! News Monday, Jan. 29, at 7 and 11 p.m.
Related youtube video: (not from post)