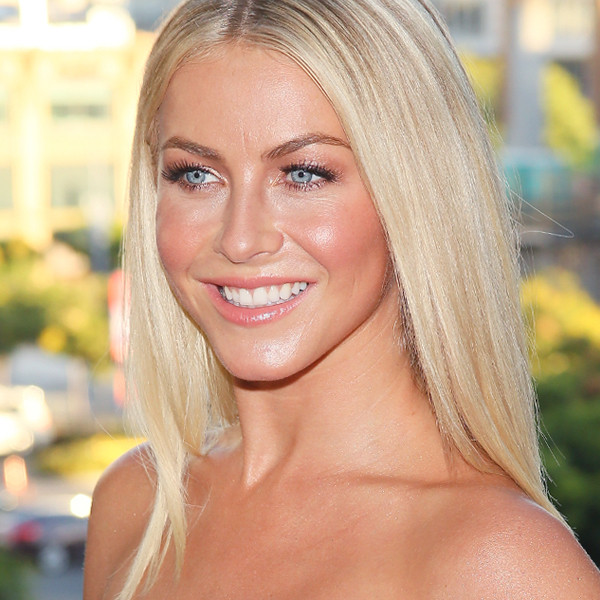 It's been a minute since Julianne Hough's idyllic, early July wedding, but we're still reeling from all the hair magic.
For her nuptials to hockey player Brooks Laich, the actress and dancer revealed natural, bright blonde tresses that looked both vibrant and healthy. Not only was she glowing, but her hair was, too. It's no secret that the Dancing With The Stars judge's locks goes through the ringer, especially when she's constantly in front of the camera.
So, our first question: How did her strands look so damn healthy? And, secondly: Who is responsible for her shiny, healthy-looking blonde tresses? The details are finally emerging! It was none other than longtime friend and hairstylist Riawna Capri (please see: Nina Dobrev and Kristin Cavallari for more client references), who recently took to Instagram to share the 10-hour process of how she transformed Julianne's hair.
Here it is babes! ?? @JulesHough wedding color formula! Swipe right to see what we were starting with ?? and some Fun extra pics. For all you hairstylist out there, this is for you! (If you're not a hairstylist, feel free to double tap and get back to your feed about now, cuz the rest will be jibberish ????) #LiveTheBlondeLife, and this is how: For all of you who were asking if she was a bleach and tone, absolutely not, we wanted her to be super bright like when she was 8 years old, so she needed some of her natural color to remain looking effortless. I took my time and did a full blown heavy ass baby fine highlight, leaving no space in between the next foil, all baby highlights back to back. I started at the nape of her neckline with 10vol + @joico #BlondeLife Lightener. And once I got up to the middle of her ears, I switched to 20 vol. All the way until I was at the top of her crown, then switched to 30vol until about an inch away from her hairline, I switched back to 20vol, and on her actual hairline I used 10 vol again. I think I had to remix about 7 full bowls of bleach total. No joke. Once all the foils were in, I finally got my glass of Ros ?? I took out the ones at the bottom that were ready to go, patiently waited for the rest to catch up, then washed 19 pounds out of her hair. So, The secret trick to make her sparkle ? is painting 40vol on her entire hairline at the bowl for 5 minutes. ?? Her toner was sweet and simple: 9NV+9V+Clear all equal parts of #Joico #Lumishine. Not only was the tone perfection, the condition and shine you get after leaving it on 10 mins is incredible. Then sealed the deal with K-Pak Revitaluxe. No joke, after 19 pounds of bleach, her hair felt like butter!!! 2 appointments and 10 hours later, Jules had her perfect wedding color. ??????

A post shared by Riawna Capri | Hairstylist (@riawna) on
After two appointments, 19 pounds of bleach and newly added baby-fine highlights, the stylist used Joico's Blonde Life Brightening Shampoo to revitalize the star's hair and bring back its silky smooth texture. This gentle cleansing shampoo is sulfate-free and has a formula that is meant to clear out any dirt or oil from your hair. Most sulfate-free shampoos don't allow for a luscious lather, but this one does. To achieve a soft hair texture, the formula contains Polynesian and Tahitian tamanu and manoi oils, which bump up the hair's sheen.
When talking to Byrdie about Julianne's wedding beauty, Capri said she loves this product (coupled with the matching conditioner and luster lock) because it "really brought the health and shine back into her hair, which we noticed that the moment I blew her hair out."
OK, so the process to get Julianne's hair color may be more of an investment than you're willing to give, but bringing brittle, damaged locks back to life for less than $20 bucks. Worth a try!
Related youtube video: (not from post)