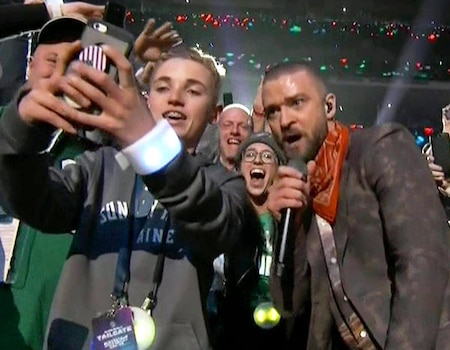 The 2018 Super Bowl has its breakout star!
No, not Justin Timberlake No, not Philadelphia Eagles winning quarterback Nick Foles It's 13- year-old Ryan McKenna Throughout the ending of Timberlake's halftime program, the triple hazard headed into the stands to join fans as he vocalized his "Can't Stop the Feeling." The artist wound up standing beside McKenna, and the teenager unexpectedly– and suddenly– had his huge minute to shine as electronic cameras focused in on the fortunate man.
As is common for 2018, it wasn't long prior to the child rapidly changed into a viral meme as audiences took pictures of McKenna standing with his cellular phone and positioning for a selfie with Timberlake and spread them around Twitter.
The hit NBC series This Is United States, which was set up to debut an extremely expected episode after the video game describing protagonist Jack Pearson's death, benefited from McKenna's facial expression to promote the upcoming episode. They utilized the minute of him taking a look at his phone to recommend he was searching for "What happens to Jack Pearson."
Meanwhile, plenty more creative audiences matched the child's phone posture to other sensations like "Mom, I thought you said Justin Bieber was going to be here" and "Who is Justin Timberlake?"
Needless to state, the minute practically made his night. As he informed The St. Paul Pioneer Press, "It's been so crazy…I don't even know what to think. All my friends have been texting me and stuff. It's insane." People are even comparing him to 2015's "Left Shark."
Meanwhile, the football fan exposed why he was actually taking a look at his phone because minute– he was aiming to get the video camera app open. "I just thought to myself, 'I'll never get this opportunity again in my whole life,'" McKenna informed The St. Paul Pioneer Press "I just went for it."
Just like that, a star is born.
Related youtube video: (not from post)