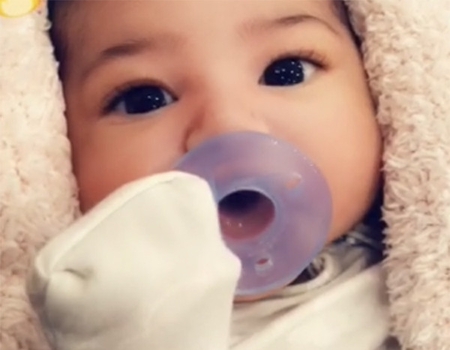 There she is!
Kylie Jenner published on her Snapchat on Saturday a video revealing her child woman Stormi Webster's face, marking the clearest picture of the kid's face ever seen openly. In the clip, the baby sports dark brown hair and eyes, draws on a purple pacifier and uses a white top with mittens and a furry hood. Kylie embellished her head with a fire emoji filter and composed, "My pretty girl."
The 20- year-old Keeping Up With the Kardashians and social networks star brought to life her child, her and Travis Scott's very first kid, last month.
The rap artist published a screenshot of Kylie's video of the child on his Instagram page on Saturday, composing, "Our little rager !!!!"
Over the previous couple of weeks, Kylie has actually published a couple of pictures of the kid as well as stated that Stormi "looks just like me when I was a baby."
Earlier today, a 21- year-old British artist, Cian Halliwell, just recently published on Instagram a drawing she made from Kylie holding child Stormi, or rather, exactly what she believes the kid appears like.
"I don't know what she looks like but I used the photo Kylie posted and a baby photo of Kylie for references," she stated.
"Really looks like her [heart eyes emoji]" Kylie commented.
The Kardashian-Jenner household have actually periodically shared child pictures of Kylie and her brother or sisters throughout the years.
Kylie has actually shared a couple of pictures of Stormi over the previous couple of weeks.
Five days after delivering, Kylie exposed her child's name through an Instagram picture, which reveals part of the kid's face, which is not in focus.
Last weekend, the truth star published her very first picture of Stormi on Snapchat: a close-up video revealing her holding the child's foot.
This previous Thursday, Kylie published on Instagram a picture of her holding her child, whose face is seen from the side and is whose head is partly covered by a hood.
Watch Keeping Up With the Kardashians on Sundays at 9/8c on E!
Related youtube video: (not from post)