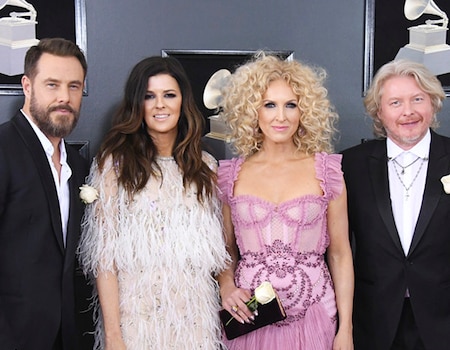 The 2018 Grammys have not even aired yet and Little Big Town is currently commemorating.
On Live From the Red Carpet, the c and w group learnt that they won Best Country Duo/Group Performance for their hit "Better Man."
Lucky for us, we got their response not long after the news broke.
"It means everything. I don't want to put too much on awards, but it really means a lot when your peers and the community recognizes your music," Phillip Sweet described to E! News' Giuliana Rancic "We're appreciative and so pleased for Taylor Swift for sending us the tune 'Better Man.' It's remarkable."
As fans understand, Taylor is worthy of credit for composing the lyrics to the hit tune. As it ends up, the "Shake It Off" vocalist and Little Big Town go way back.
"We've known her since she was a baby and she used to hang out in the dressing room and play video games with us," Karen Fairchild shown us. "One day she e-mailed us and said, 'Hey, are you guys in the studio making a record? I have a song in my back pocket that I've loved for a long time and I hear your harmonies on it.' So she sent it to us and we were like 'Holy cow, this is a big song.'"
As they want to state, and the rest is history.
While on the red carpet, all 4 members of Little Big Town were using white roses in assistance of the Time's Up motion.
"We have children at home and we want to raise them to know that they can always speak out and take care of themselves and stick up for themselves," Kimberly Schlapman described. "It's so important."
As for all the up and coming artists who wish to discover success, the band had an unique message and recommendations.
"Love and respect. We've been together for a really long time and that's what our relationship is based on," Jimi Westbrook shown us. "Men and women: equal and respect. That's the main thing. We have to respect and love each other. That's what being a human being is about."
Congratulations Little Big Town!
Tune in to E!'s two-hour Live From the Red Carpet: 2018 Grammy Awards unique at 5: 30 p.m. ET/2: 30 p.m. PT. After the Grammys telecast on CBS, enjoy the E! After Party at 11 p.m. ET/8 p.m. PT. For total Grammy Awards protection, watch E! News Monday, Jan. 29, at 7 and 11 p.m.
Related youtube video: (not from post)