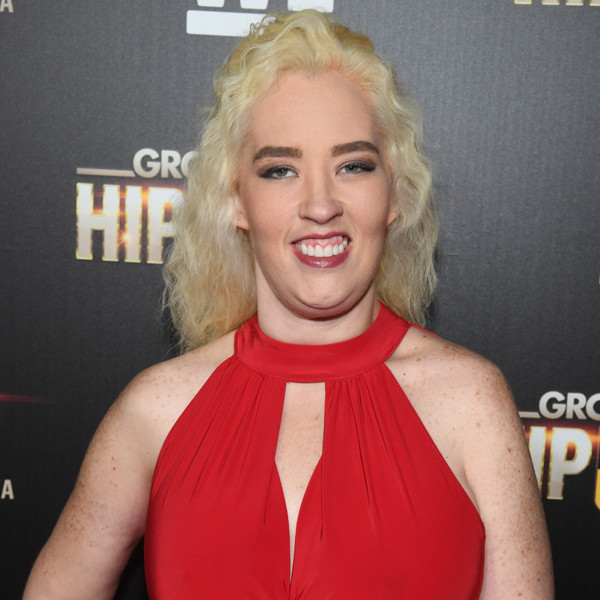 Mama June Shannon is virtually "unredneckonizable" from her Here Comes Honey Boo Boo and Toddlers and Tiaras days.
The 37-year-old mother of four lost more than 300 pounds over the past year and her weight loss transformation was documented on WE tv's Mama June: From Not to Hot.
The show showed not only the process of June's physical transformation but also her family's reactions to her new look and lifestyle. June, who weighed 460 pounds at her heaviest, got gastric sleeve surgery in 2016. With the help of personal trainer Kenya Crooks, she also began a new diet plan, with the goal of fitting into a red, long-sleeve size 4 dress she planned on wearing at her ex Mike "Sugar Bear" Thompson's wedding to his new girlfriend.
Crooks helped June lose 84 pounds over the course of three months, according to his Instagram posts.
June also underwent a breast augmentation, had excess skin removed from her neck and got veneers.
June debuted her slimmer look for the first time exactly four months ago, in late March.
After her mom's makeover was revealed in the penultimate episode of From Not to Hot, her daughter Alana "Honey Boo Boo" Thompson, 11, said her mom resembled Marilyn Monroe.
"She looks great," she said. "I'm really proud of her."
This past May, June showcased her slimmer figure in a bright red halter gown with a keyhole neckline at her first red carpet event since her dramatic transformation—WE tv's Growing Up Hip Hop: Atlanta premiere in Atlanta. That month, it was revealed June weighs 137 pounds. She attended the event with Alana.
Both the child and sister Lauryn "Pumpkin" Shannon initially did not support their mother's weight loss efforts.
"At first, we didn't want to participate in the fact that she was eating healthy and things like that," Lauryn told E! News in March. "But as I went along, we could tell that she really needed the support so me and her both decided that it was just something that we needed to do what support her. So we did the meal plans with her."
Alana said her mother looked "fine" before and emphasized that she herself did not plan on following in her footsteps.
"I'm not jumping on any bandwagon, unless it has like, cheeseburgers and stuff," the child said on the show.
Related youtube video: (not from post)