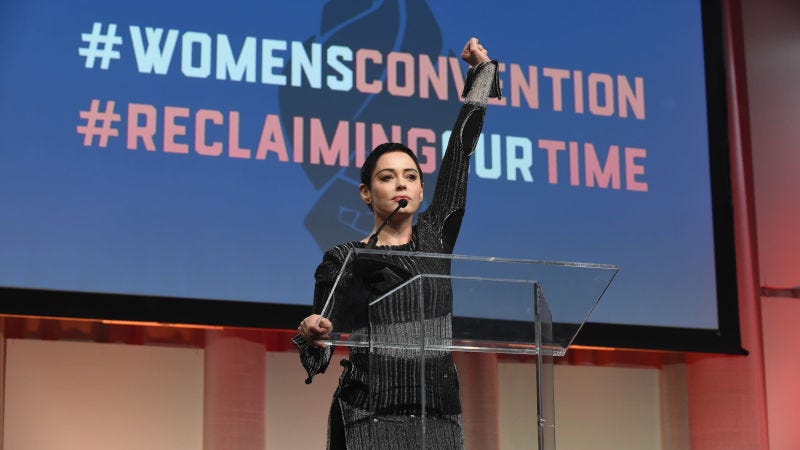 On Tuesday, USA Today reported that Harvey Weinstein's attorney had actually used proof focused on discrediting Rose McGowan's claim that the disgraced Hollywood manufacturer raped her in 1997 at the Sundance Film Festival.
That proof can be found in the type of e-mails from Jill Messick, McGowan's previous supervisor, and Ben Affleck, whom she declares she talked with about the supposed attack simply after it took place. Weinstein's attorney stated that in those e-mails, sent out prior to a multitude of public claims of sexual attack and harassment were made versus Weinstein in late 2017, Messick and Affleck obviously rejected that McGowan had actually informed them about the supposed attack.
Per Weinstein's lawyer:
"Ben Affleck expressed the following in an email to Mr. Weinstein, 'She never told me nor did I ever infer that she was attacked by anyone. Any accounts to the contrary are false. I have no knowledge about anything Rose did or claimed to have done.'"
To which McGowan reacted with a definite "You will be an empty suit coffin," etc.
---
Jessica Chastain states that, like Lady Bird (who is imaginary, from the Greta Gerwig motion picture Lady Bird), she too had an affinity for the Dave Matthews album Crash, even presuming regarding lose her virginity while paying attention to it.
Blind me.
[Vulture]
---
The disgraced DJ who searched Taylor Swift's butt (he has a name, and it's David Mueller) called the police officers over a supposed bomb risk versus him. [TMZ]
The University of Iowa revealed it's getting rid of gambling establishment magnate Steve Wynn's name from among its institutes after he was implicated of sexual misbehavior. [THR]
" Cowboy Ninja Viking," so, exactly what, we're not attempting any longer? [EW]
At this minute there's absolutely nothing I 'd rather check out than Gwyneth Paltrow's wedding event "brainstorm." [People]
Stormy Daniels and Wendy Williams are feuding, it has something to do with the relative vigor of Daniels' vaginal area? [TMZ]
Related youtube video: (not from post)