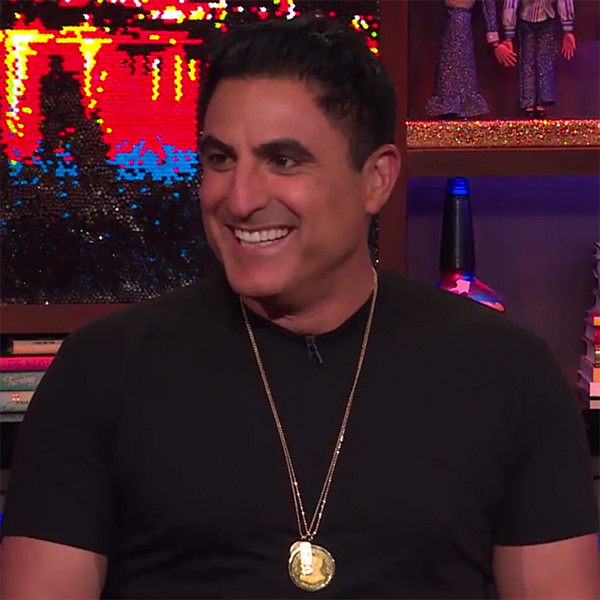 [embedded content]
Recognize Reza Farahan?
When the Shahs of Sunset star appeared on Watch What Happens Live With Andy Cohen Sunday night, the 43-year-old proudly showed off his 40 lb. weight loss and clean-shaven face. "I didn't recognize you," Andy Cohen told him. "You've gotta stand up, because you look great!"
"I almost wore a jumpsuit," Farahan said as he did a twirl. "I swear to God!"
Cohen quipped, "I'm kind of glad you didn't!"
Farahan has been documenting his weight loss journey on Instagram for months. "I've been killing it: diet, exercise, counting calories, working out," he told the late-night host. "My, God!"
Farahan kickstarted his diet and exercise regimen the day after Christmas.
"Are you having a hard time keeping it off?" Cohen asked. "Are you struggling?"
"Not at all. I mean, I gave all my clothes away, and when I had these Hefty bags full of suits that said 'custom tailored for Reza Farahan,' [my husband Adam Neely] was like, 'Honey, are you sure you should be doing that?' And I'm like, 'F.U. Yes!'" he laughed. "There are some chubby queens running around West Hollywood wearing suits that say 'custom made for Reza Farahan.'"
Many Shahs of Sunset viewers were more shocked to see Farahan's trademark moustache is gone. "Saddam Hussein called and said, 'I want my look back. I'm tired of this s–t, OK?' Bravo did a side-by-side of me and Saddam—like 'Who Wore It Best?' I lost, so I was like, 'I have to shave,'" the real estate agent recently told TooFab. "The 'stache kind of detracted from how fat my face was, and by shaving it, I was like, 'OK, I'm going to really get a sense of how fat I am.'"
(E! and Bravo are both members of the NBCUniversal family.)
Related youtube video: (not from post)