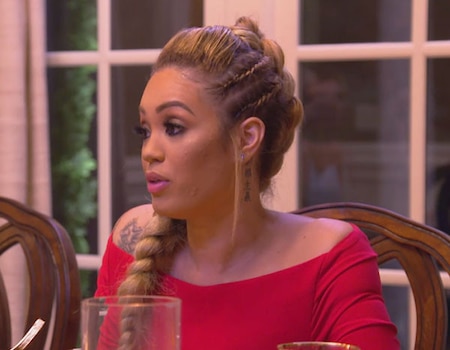 Give her the ring!
Telli Swift has actually had about enough with Deontay Wilder not dedicating to her. On this week's episode of WAGS Atlanta, the women have a get together at Kaylin Jurrjens location, and Telli describes her disappointment with Deontay not proposing to her.
Telli is the very first to get here to the supper celebration and opens to Kaylin. "We went to a car dealership and kind of was like, okay why are we really here?" Telli exposed to Kaylin. "I kind of felt like he was trying to take my mind off of getting the ring. I was cussing him out, I was crying. It was a hot mess."
When the other girls get here, she looks for the group's suggestions on exactly what she must do. "I kind of gave him an ultimatum to either step up with a ring or we can co-parent. I feel like it's about that time," she exposes. "It's emotionally draining to not know where we're going. I just don't feel like I'm good enough and it hurts."
Lucky for Telli, her women were right there to assist her see things plainly. "Let me just say this: I don't ever want to hear you say out of your mouth that you're not good enough," Kierra Douglas informed her. "Because you break your neck and bend over backwards for that man."
The support assists, however does not relieve her worries. "It just hurts because I do so much as a woman for him and I just feel like he doesn't want to get married to me," Telli shares. "It's like, you tell me, you tell me, you tell me and it's just like why are we not there?"
Watch the psychological minute in the clip above!
Watch back-to-back episodes of WAGS Atlanta Wednesday at 10 and 11 p.m., just on E!
Related youtube video: (not from post)