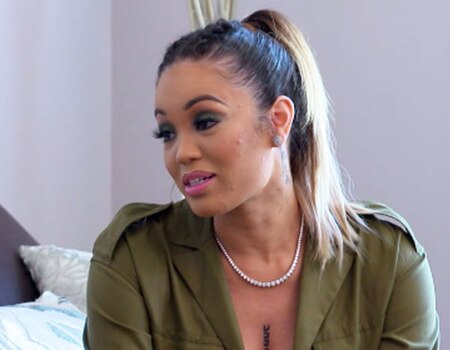 Are they beginning a household together?!
Telli Swift has actually been trying to find an engagement ring, however as it ends up, she might be getting an infant rather. On today's episode of WAGS Atlanta, Telli surprises Deontay Wilder with some news– she may be pregnant!
"I'm kind of nervous. I haven't been feeling good. My breasts have been hurting. My head hurts," Telli shares. "All the symptoms of me being pregnant." Of course, Deontay is just concentrated on one part of that sentence: "Your titties look the same size though."
Telli isn't really going to let him sidetrack her from the job at hand. "Well, I got some tests so let me go ahead and take them," Telli states prior to going to the restroom to take some pregnancy tests.
"Go on and take your fine ass in there and take that test. Then come back and tell me some good news," Deontay jokes. While they await the outcomes, Deontay assures his female that infants are constantly a true blessing. "Do you understand, this is a life-changing situation?" Telli asks him.
"But you ready, baby. You can handle anything," Deontay informs her. "We been talking about this for a long time." At least among them has. "I think you spoke it up," Telli jokes, prior to coming out of the restroom with 3 pregnancy tests. Might she be pregnant with his child?!
See the stunning minute in the clip above!
Watch a brand name brand-new episode of WAGS Atlanta Wednesday at 10 p.m., just on E!
Related youtube video: (not from post)