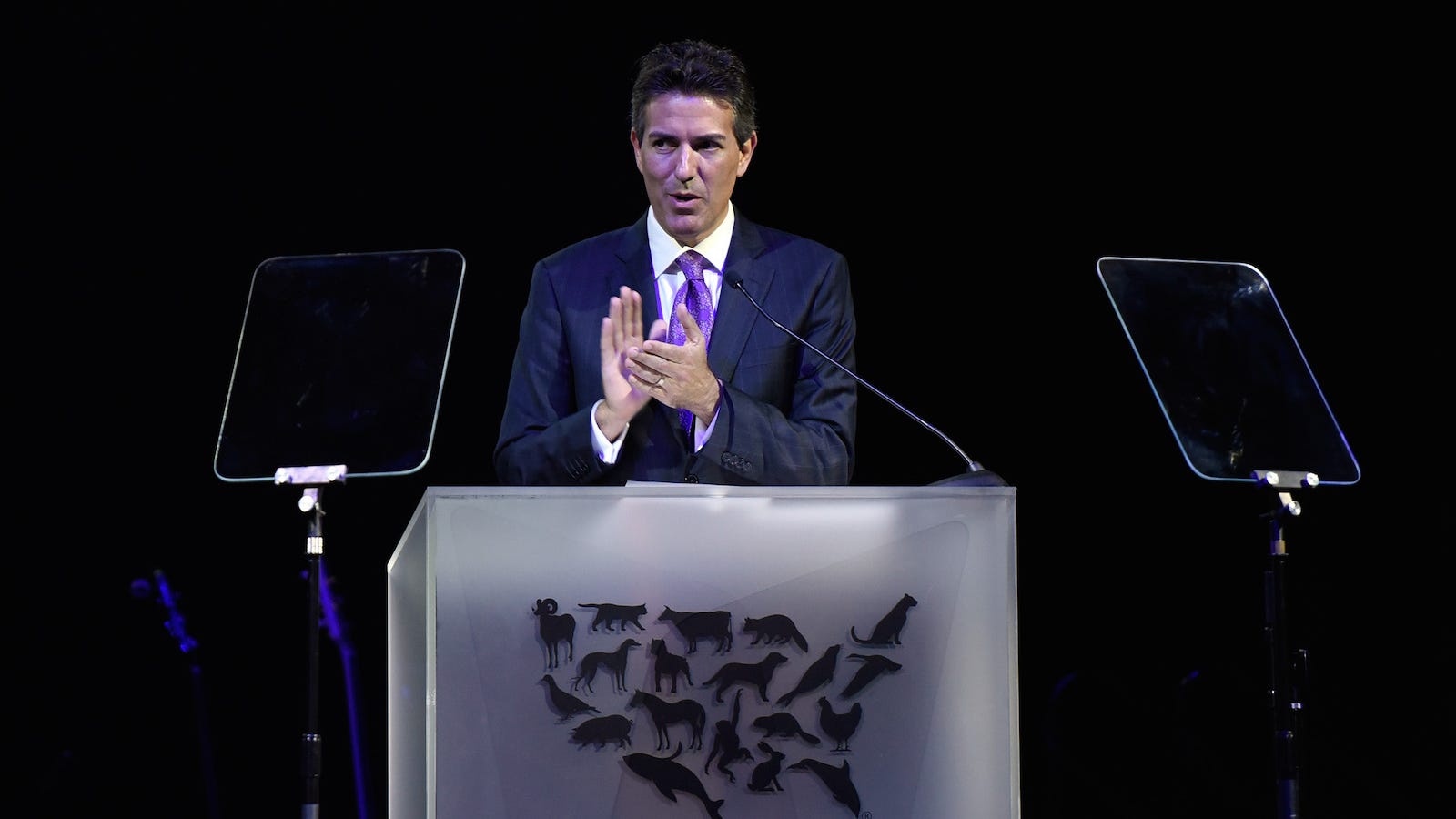 On Thursday, the board of the Humane Society will decide the destiny of chief govt Wayne Pacelle, who has been accused of sexual harassment within the office. He has been allowed to keep up his place all through the investigation, which has disturbed donors and personnel.
The Washington Publish experiences that Pacelle's case was examined by a group of attorneys employed externally by the Humane Society from December 26 to January 24. They concluded that there was a notion on the group that ladies who engaged in sexual relationships with Pacelle had a profession benefit, and recognized three ladies with particular complaints about his habits:
The investigators, who interviewed 33 witnesses, recognized complaints from a former intern who stated Pacelle had kissed her in opposition to her will in 2005, a former worker who stated he requested to masturbate in entrance of her in 2006 and a former worker who stated he stopped by her workplace late one night time in 2012 and requested her to salsa dance with him.
A memo describing the investigation indicated that there have been basic complaints about Pacelle for years, and, based on senior feminine leaders, all of them went ignored. Three former workers had been provided settlements after claiming they'd been demoted or dismissed for reporting Pacelle.
Donors who care concerning the humane therapy of animals appear pretty disgusted that their cash is probably going to cowl the tracks of somebody who can't deal with people nicely:
"I want the money that I donate to go toward helping animals," stated Rachel Perman, director of charitable giving and engagement at Tofurky, which makes a vegetarian turkey product.

She stated her agency had donated $30,000 to the Humane Society over the previous two years. "I don't want to be paying to cover up someone's sexual harassment."
Many have introduced their intention to withdraw as supporters of the group if Pacelle isn't fired, and not less than on member of the editorial board of Animal Sentience (a Humane Society Publication) has stepped down in protest.
Pacelle has been working for HS since 2004. He denies all of the accusations and appears to imagine they're a conspiracy.
"This is a coordinated attempt to attack me and the organization," he instructed The Publish. "I absolutely deny any suggestion that I did anything untoward."
Related youtube video: (not from post)