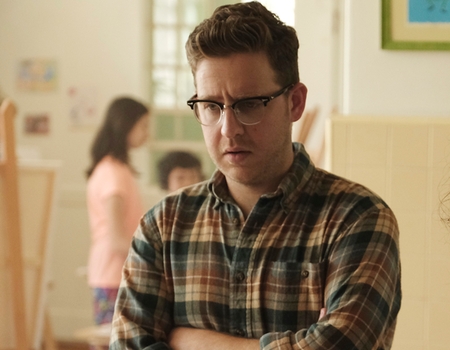 In season one, we watched as Jason Ralph's Quentin Coldwater carried out a novel model of Taylor Swift 's "Shake It Off" whereas trapped in an asylum. In season two, the ante was upped when Hale Appleman's Eliot and several other different solid members delivered a surprising efficiency of "One Day More" from Les Miserables.
And now, in season three, The Magicians is getting musical but once more.
E! Information can affirm that within the ninth episode of the season, airing Wednesday, March 7, the collection will likely be going the full-on musical episode route, with every of its collection regulars poised to flex their appreciable singing chops over the course of 4 (!!) songs, together with covers of David Bowie and Queen's "Under Pressure" and "All I Need Is the Girl" from the musical Gypsy. Vainness Honest first revealed the information.
The impetus for the musical episode got here out of co-creator John McNamara's season two Les Mis experiment—and its overwhelming success. "Those f–kers were so good!" McNamara's co-creator Sera Gamble, who considers musicals to be "the STD of The Magicians"—"I didn't come to the show loving musicals, but I'm just around John every day and the passion, apparently, is contagious."—advised E! Information throughout a go to to the Vancouver set.
"That's the thing. It came out better than I think we had hoped," McNamara added. "I was expecting tons of hate tweets. We all got the opposite. So of course, we're like, 'Well, we've got to do that again!' But as we've been saying amongst ourselves, you don't just want to rinse and repeat. You've got to keep going up. So we're trying to go up."
Jade Tailor, whose Kady tackles the Gypsy monitor (sung right here as "All I Need Is the Boy") within the episode, was thrilled on the alternative, particularly since she'd been omitted of each earlier musical moments. "I literally started crying from excitement and joy because I'm a musical theater girl…There was a running joke on set that if I didn't get a musical number, I would start killing everyone," she advised us, laughing. "And my response was true. Everyone's alive, that tells you something. Everyone gets to sing, which is exciting. I get a really fun part."
So what is the cause for all of the musical mayhem this time round? E! Information can solely reveal that the reply lies with Trevor Einhorn's Josh Hoberman, who hasn't been seen since becoming a member of the gang's quest to deliver magic again within the season's second episode. With out revealing an excessive amount of, let's simply say that the hunt finds Quentin, Kady and Alice (Olivia Taylor Dudley) making an attempt to persuade their outdated pal to return residence from a spot he may not be all that all for leaving.
"Josh in the beginning of this season, they really gave Josh this sort of emotional layer of how much magic meant to him. It sort of, in his mind, defined him. And he was just as desperate as the rest of the group to find it and find it as quickly as possible. Once we meet him again in 309, we quickly realize Josh is in this sort of dream magical world…It sort of feels like it doesn't matter if it's not reality, it doesn't matter if it doesn't make sense, but the fact that he's able to do magic means he's staying here no matter what," Einhorn advised E! Information. "In Josh's mind, it defines him so much that he doesn't need answers, he just needs to be able to do it."
And as you may see within the unique clip above, whenever you do begin to query the musical nature of this fantasy world, it does not reply too kindly.
The episode, which sees Josh tackle the lion's share of the singing duties other than the large group quantity, places the peripheral character within the foreground and nonetheless daunting the duty was, Einhorn was greater than up for the problem. "The first thing I was happy to see was that it was called 'All That Josh' and it stops there, it's not 'All That Josh—Death Scene, Pt. 1.' It's not like 'Josh dies, episode nine.' When you see your name in a title, you're happy to know there's some sort of positive spin on it," he advised us. "I knew no matter what—at least from the people I talked to that do a lot of musicals and I have a little bit of playing around with musicals in the past—it's all about a commitment level. If you don't commit, then everyone will know and it will just feel weird because you didn't dive into it. So I said no matter what, I'm just going to commit the heck to it and it wound up being kind of fun."
Other than taking up the "daunting" job of tackling Bowie and Freddie Mercury's iconic monitor (extra on that in a second), Einhorn obtained to dwell out a pop star fantasy along with his particular person songs. "Everyone was so encouraging," he stated of the dancers employed to help him. "I've never done any dance stuff like that before in my life and they just helped me. We had a two-day rehearsal process, and at the end of the two days, it was really like a party on set. So for me, it was a blessing because I think it came out pretty well. I was pretty happy with it."
As for the way the Syfy collection may presumably discover a strategy to high itself in its just-ordered fourth season, Einhorn stays as stumped as the remainder of us, however has religion it will occur. "I was thinking the same thing. What are we going to do? Why don't you just go for Hamilton next time? Because that's not popular enough," he stated, laughing. "I also was joking, we started episode 10 right after. We didn't get a break right after, we went literally from Under Pressure right into episode 10 and it's just Jason and me in a scene we were filming. And I was like, 'Wouldn't it be great if we just sang this entire scene and the whole audience just thinks that the rest of the season is a musical? And we just can't help ourselves anymore?' We go for it. We don't shy away from it."
The Magicians airs Wednesdays at 9 p.m. on Syfy.
(E! and Syfy are each a part of the NBCUniversal household.)
Related youtube video: (not from post)