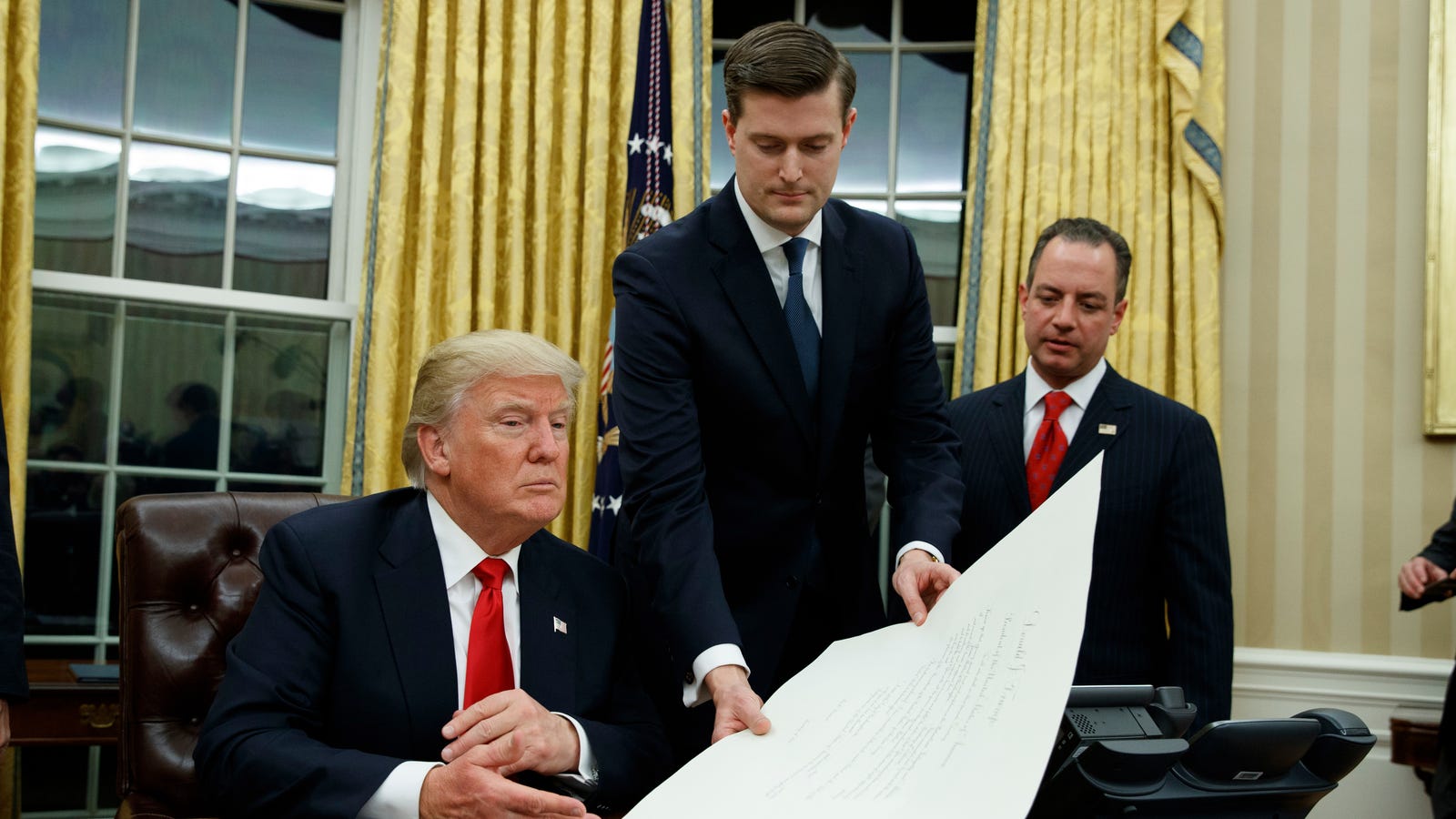 Charged domestic abuser Rob Porter (middle) with implicated sexual harasser. Image through the AP.
After a week of playing hot potato with long-alleged domestic abusers in the White House, Trump has actually chosen coming out versus #MeToo, basically. Updates from the dojo of assholery (scroll to # 7 if you're simply fucking tired):
1) On Wednesday, senior White House staffer Rob Porter resigned after the Daily Mail ran pictures of a shiner coming from his ex-wife Colbie Holderness. The accusations were "known to the White House for months," inning accordance with the New York Times.
Holderness declared that he kicked and strangled her on their honeymoon. On Tuesday, his previous ex-wife Jennifer Willoughby, who has actually acquired a limiting order, declared that he dragged her from the shower and called her a "fucking bitch." The FBI had actually apparently know the accusations because they carried out Porter's background check. It is commonly thought that the accusations obstructed him from getting security clearance.
2) Republicans weapon for Porter! In a Tuesday press instruction, Sarah Huckabee Sanders called Porter "someone of the highest integrity and exemplary character." Senator Orrin Hatch called the reports "a vile attack on such a decent man." John Kelly utilized the expression "a man of true integrity and honor." Axios reports that Porter declares that White House authorities informed him to "stay and fight."
3) Great, now Trump's ego is the problem. On Wednesday, Vanity Fair reported that "Kelly's decision to go to bat for Porter deeply frustrated White House staffers."
4) On Friday, the New York Times reported that Trump independently called Porter "bad garbage." Woah!
5) On Friday, Trump openly applauded Porter. "As you probably know, he says he is innocent and you have to remember that," he stated. "He said very strongly yesterday that he's innocent."
6) On Friday, a White House speechwriter David Sorensen resigned after implicated by his ex-wife of spoken and physical domestic violence, consisting of running over her foot with a vehicle and burning her hand with a cigarette, the New York Times reports. Inning accordance with the Washington Post, the White House declared lack of knowledge of the entire thing.
7) Republicans reverse course. On Sunday, the New York Times reports that John Kelly had "told his staff he ordered Mr. Porter to be fired 40 minutes after learning of the charges, an assertion that other officials disputed."
8) On Saturday early morning, Trump comes out versus #MeToo on Twitter, or safeguarded particular "people" on Twitter whose lives "are being shattered" by a "mere allegation":
Peoples lives are being shattered and damaged by a simple accusation. Some hold true and some are incorrect. Some are old and some are brand-new. There is no healing for somebody wrongly implicated – life and profession are gone. Exists no such thing any longer as Due Process?
9) Now reports are walking around that Trump is considering shooting John Kelly for damaging his messaging, and Kellyanne Conway is on ABC rejecting.
And that's the week in federal government.
Related youtube video: (not from post)