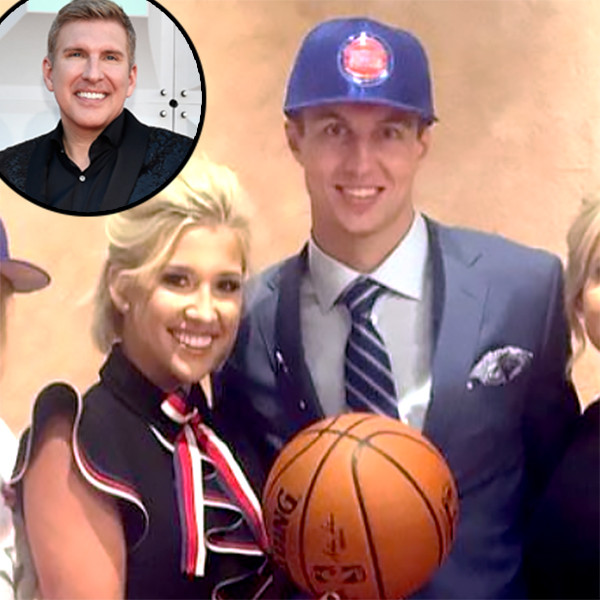 Looks like Todd Chrisley is fully on board with the idea of Luke Kennard dating his daughter Savannah Chrisley.
Savannah revealed in June that she is dating the basketball player, who was selected by the Detroit Pistons as the 12th pick of the 2017 NBA draft, saying, "Yep y'all…he's my guy." Her dad later told E! News' Jason Kennedy, "When you have children, you pray religiously that your child brings someone home who they're evenly yoked with—that they have come from a similar background, and she has done that" and that "If the relationship ended tomorrow, she would walk away a better woman because of the impact he has had on her."
Todd posted on his Instagram page on Friday a photo spread of the NBA player with Savannah, writing, "To say that we are proud of these two would be an understatement, God gives us what we need and the blessings and favor he has shown these two are beyond measure, we love you both @savannahchrisley and @lukekennard5."
While appearing with her dad on E!'s Daily Pop earlier this month, Savannah said she was not afraid to introduce Luke to her father.
"Honestly, I wasn't [afraid] because, for the first time, he's an awesome human being," she said. "There was no hesitation about it. It started off very pure and right. [Todd] was involved from the very beginning. That's the way to do it."
"She has been a 'Shady Sheila' in her past. We don't have to worry about that because Luke is a wonderful, fine young man whose integrity and morals are beyond reproach," Todd said. "His family is just wonderful, good, God-fearing people."
Related youtube video: (not from post)